Published by Stephen on October 4, 2008
This is part two of a three part guide, click here to start at part 1.
Attaching the Brackets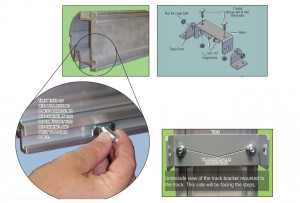 After the track is connected and the wire run, you can begin attaching the mounting brackets to the track. These brackets will support the entire weight of the stair lift and its occupant. The standard bolts are intended for a wooden staircase, so if you have a cement or brick staircase, you will need a special type of bolt available from the dealer.
The brackets are made up of three pieces and use what are called T-Bolts. When attaching the brackets, you will want to leave them a little loose, so that you can reposition them as you place the track on the stairs. There should be one bracket on the botto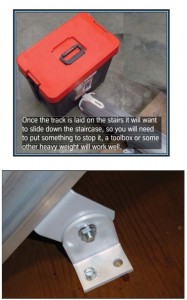 m step, one located on the top step, and each 8 foot section of track should have three brackets.. There should also be a bracket before and after each section of track.
Attaching the Track to the Stairs
Once the mounting brackets are attached, it is time to attach the track to the stairs. Place a heavy piece of wood or a tool chest at the bottom of the stairs, the track can be propped up against this as you install the mounting brackets. Start by placing the track in the middle of the stairs. This will give you enough room to adjust the mounting brackets.
Once the mounting brackets are in place, move the track as close to the wall as the mounting brackets will allow and bolt the mounting brackets to the stairs. Plastic caps come with the brackets that can be placed over them.
2 Comments

|