Published by Stephen on June 29, 2008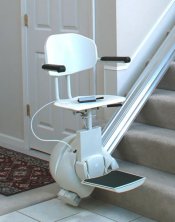 Stair lifts are a type of lifting device that is commonly found in residential settings and are used to carry a person up and down the stairs.
There are a few different types of stair lifts available, but most require that a track system be installed directly to the steps. A chair is most often attached to the track and sent up and down the stairs.
Residential stair lifts plug directly into a normal household outlet and either use direct power or battery power to move the unit.
The lifting capacity of a stair lift varies by model, but most can support at least 250 pounds and many models are available that can support much more.
Stair lifts are available for use for both indoor and outdoor environments. Most outdoor stair lifts can be used indoors, but not all indoor stair lifts can be used outdoors. Outdoor stair lifts are specially sealed against the elements and all metal components are specially treated to prevent rust. This also makes them more expensive than indoor stair lifts
Stair Lifts are also frequently used in commercial settings. They are commonly found in churches, schools, and businesses. When used in commercial settings a keyed lock will be added to the stair lift to prevent unauthorized use. Frequently a keyed lock is added to residential stair lifts, especially those that will be used outdoors.
No Comments

|