Published by Stephen on July 6, 2008
Stair lifts are a type of mobility aid that is used to carry a single individual to the top or bottom the stairs. The majority of lifts use a chair, which is connected to a metal track. The track is in turn secured to the steps or to the wall and the chair is sent up and down the track. Purchasing and installing a stair lift for a straight staircase can be done quickly and for a rather low cost, but if you don't have a straight staircase, this process is not so straight forward.
Curved Staircases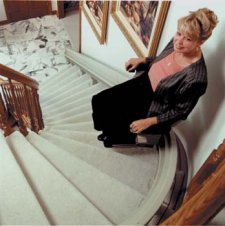 There is no uniform standard that is used when constructing a curved staircase and so, the degree of the curve depends on the design of the house and the builder.
Since there is no standard, an in home estimate will be required. They will also need to measure the stairs for you because the stair lift will have to be custom made to the specification of your stairs.
Often it takes around six to eight weeks for the unit to be constructed and then it must be installed by the stair lift company. They tend to be much more expensive than a straight stair lift and depending on the company, they can cost well over $15,000.
If you have a curved staircase, it is a good idea to get several estimates. By doing a little bit of shopping around, you can save a good amount of money, but remember the company will have to come to your home to provide you with an accurate cost of the curved lift.
Typically a curved stair lift does not have much resale value, because it will only work with an identical staircase that has the same degree curve.
'L' Shaped Staircases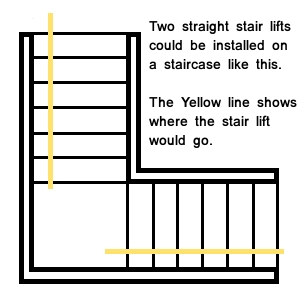 Many people have an 'L' shaped staircase in their home. An 'L' shaped staircase is basically two straight staircases that have been put together and generally, as do curved staircases, allows for a slightly wider set of steps.
If you have a staircase that is shaped like an 'L' and has a landing in between, then it might be possible to install two traditional straight lifts as opposed to installing a single curved stair lift.
Going this route will save a lot of money and will allow you to be up and running in only a few days. However, when you reach the landing you will have to switch stair lifts if you go this route.
Alternatives to a Double Installation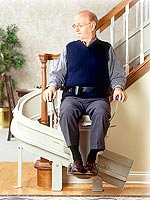 There are also several curved stair lifts available that are designed specifically for an "L" shaped staircase. These models can be used on staircases with landings and those without.These types of stair lifts are less expensive than a custom built curved stair lift, but usually still cost more than a double installation would. The advantage is that these can be installed rather quickly, but they will only work with certain types of "L" shaped staircases.
16 Comments

|