Published by Stephen on November 18, 2008 Under stair lifts
Is My Stair Lift Covered By Medicare?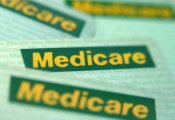 While there are many devices that fall into the category of durable medical equipment, stair lifts do not. Currently, Medicare does not cover the cost of stair lifts. This is because Medicare currently classifies a stair lift as a home modification and home modifications are not covered by Medicare.
There are many other types of home medical equipment that Medicare classifies as home modifications, including ramps, elevators, bathroom grab bars, security systems, handrails, living quarters for a caretaker, and widening doorways for individuals in wheelchairs. None of these things are currently covered by Medicare.
What is Medicare?
Medicare became law in the nineteen-sixties. It was designed to help cover the cost of medical expenses for an aging population. Those who are over sixty-five, suffer from Lou Gehrig's Disease, or have acute kidney problems are typically able to receive Medicare Benefits.
Medicare has underwent many changes over the last thirty years. Originally, doctors visits and hospital stays were covered, but the cost of prescription medicine was not. This has changed recently and today, prescription drug plans are available to most people who are eligible for Medicare.
Another change is the introduction of Medicare Advantage Plans. These are insurance programs that are offered and administered by private insurance companies. They are still funded by the federal government, but the insurance companies are given discretion as to how they provide coverage. As a result, while they still cover all of the same things that traditional Medicare covers, they are allowed to choose how the cover it. This means that a doctors visit might be cheaper, but x-rays might cost more. For this reason, it is very important to carefully read over the plan and compare it to traditional Medicare.
Another thing that is usually covered by Medicare is durable medical equipment.
Medicare and Durable Medical Equipment
Durable Medical Equipment consists of things like wheelchairs, prosthesis, and adjustable beds. There are many types of equipment that falls into this category. In most cases, it is necessary to receive a doctors prescription for these devices. The prescription must state that it is medically necessary for the patient. Some types of medical equipment have specific requirements as well.
For instance, in order for a mobility scooter to be covered by Medicare, it must be necessary for use throughout the home. As a result, if the mobility scooter is only needed for use away from the home, it would not be covered.
Another device that has special requirements is the lift chair. These devices are used to lift an individual safely into the their feet and look similar to a recliner. The whole lift chair is not covered by Medicare, but instead only the part that actually raises the chair is covered.
For many devices, like lift chairs, it is necessary to get a prescription and a Certificate or Medical Necessity. A Certificate of Medical Necessity is basically a much more detailed prescription. The doctor must analyze the individuals physical ability and state that the equipment is required for medical reasons. In the case of a lift chair, the Certificate of Medical Necessity must state that they individual is not able to get out of any chairs in their home without assistance from others.
No Comments

|