Published by Stephen on November 11, 2008 Under wheelchair lifts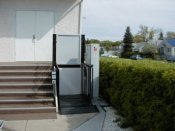 Improving accessibility in the home is very important. Today, there are many devices available, from bath lifts to stair lifts, which help make it easier for mobility challenged people to use their homes. Often the stairs present the largest obstacle and can also be very dangerous to people who are mobility challenged. For many a stair lift will be enough to allow access to the stairs, but people who use mobility vehicles can not use a stair lift as easily. Instead vertical platform lifts are used for people who use mobility vehicles, such as wheelchairs.
A vertical platform lift, or wheelchair lift, is used by people who use wheelchairs or mobility scooters. In many ways, a vertical platform lift is very similar to an elevator. An individual can drive their mobility vehicle onto the lifting platform. Then using call buttons or a remote control, they can activate the lift and be raised vertically up the stairs.
While similar to an elevator, vertical platform lifts are usually much more cost effective. They do not require a shaft or any major home construction, aside from a sturdy wood or concrete base. These lifts can span distances of up to twelve feet, but this depends on the model of the lift. Most support well over five hundred pounds.
Wheelchair lifts are popular for use outside the home, but they are also used inside. Often at places like churches, the lift is not always needed or it is needed in different areas. Many choose to use a portable wheelchair lift in these situations. A portable lift can be moved quickly and set up in only a few minutes. This can allow quick access to a stage and then be stored out of the way when it is not needed.
Generally, a portable vertical platform lift will not be able to support as much weight or lift as high as other lifts. For this reason, a portable lift should not be used unless it is necessary, such as at a church or school. For the home, it is better to go with a semi-permanent lift, which will be bolted into the base and provide improved weight and lifting stability.
Using a wheelchair lift around the home is often preferable to a ramp. It is easier to use, requires less space, and can be used to lift not only people that use mobility vehicles, but also other family members.
No Comments

|