Published by Stephen on April 15, 2009 Under vehicle wheelchair lifts
There are many millions of people across the United States who rely on their mobility scooter or electric wheelchair everyday, both at home and away. For those who use their mobility vehicle away from the home, it is necessary to have some means of transporting it, luckily there are several options.
One of the easiest ways to transport a mobility vehicle is to use one that can be taken apart into manageable pieces. These are more common among mobility scooters, but portable electric wheelchairs are also available. The mobility scooters that are designed to be taken apart are called travel scooters and are very lightweight. Often when disassembled, the heaviest piece is only about 30 pounds, so it is very manageable for most people.
While very convenient, using a travel scooter or portable electric wheelchair has some disadvantages. One disadvantage is that in order to make the scooter so lightweight, many features are removed. As a result, they have a shorter per charge range, lower weight capacity, and lack many of comfort features. They are also not as durable or robust. Also, for many, lifting the 30 pound base from the ground into the trunk might not be possible. This is one reason that the majority of individuals who use their mobility vehicle on a regular basis go ahead and invest in a wheelchair lift for their automobile.
For the purpose of this article, the term wheelchair lift is used, but there are also scooter lifts, as well as lifts that can be used with both mobility scooters and electric wheelchairs. Often, mobility scooter lifts are called scooter carriers.
External Wheelchair Lifts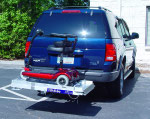 Wheelchair lifts come in several different designs, but they all strive to make transporting a wheelchair or mobility scooter as easy as possible. Some are attached to the hitch of a vehicle. These hitch mounted wheelchair lifts can be installed quickly and don't require any major modification to the automobile. Often they will consist of a mechanical platform that can be raised and lowered by only pushing a button.
External vehicle lifts are very popular because of how easily they can be installed and the fact that they do not take up any space inside the vehicle, making them a good choice for trucks and cars. However, they do leave the scooter or wheelchair exposed to the elements, so some people opt to go with an internal vehicle lift. Internal vehicle lifts solve this problem.
Internal Wheelchair Lifts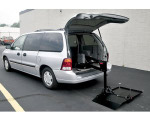 There are two main kinds of internal wheelchair lifts available. Some lifts, which are called internal platform wheelchair lifts, offer a platform lifting system, similar to that of external wheelchair lifts. These can be placed in the middle section of a van or in some cases the trunk area of an SUV or Van. The platform extends from the vehicle and contacts the ground, at which point the scooter or wheelchair can be moved onto the platform.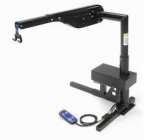 The internal platform wheelchair lift is very popular and easy to use, but it requires a rather large automobile. For smaller vehicles, a crane wheelchair lift is commonly used. A harness is attached to the mobility scooter or wheelchair and it is then hoisted into the air by the crane wheelchair lift. Some even offer powered rotation, which allows the crane arm to be completely controlled.
For many people, the wheelchair lift provides an excellent means of transporting a mobility scooter or electric wheelchair. People who might only need to transport their scooter infrequently, a travel scooter or portable wheelchair might be a better option.
No Comments

|