Published by Stephen on June 19, 2010 Under stair lifts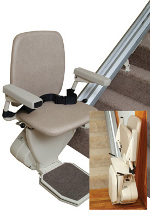 It is no surprise that the stairs are a common source of injury for senior citizens and many of those who are elderly or mobility challenged struggle with using the stairs everyday. In recent studies it was found that seniors are much less likely to fully recover from serious injuries, with things like broken hips often resulting in the need for some sort of managed care or assisted living facility. One way that using the stairs can be made safer for the elderly is by using a stair lift.
The stair lift is a powerful tool that is designed to safely move a senior up and down the stairs. Most stair lifts are attached to the steps of the staircase and allow for the senior to sit in a chair as they are carried up the staircase. These types of stair lifts are called stair chairs and there are several DIY Stair Lift Kits available that can be installed quickly and easily by the homeowner.
While stair chairs are the most common type of stair lift, standing stair lifts are also available. Standing stair lifts, or perch lifts, work in a manner similar to a stair chair, except that they provide a small platform to stand on in place of the chair. A perch lift is not quite as safe as stair lifts that use chairs, as the senior must remain standing as they are carried up the staircase. While not quite as safe as other types of stair lifts, perch lifts can be a good choice for those recovering from a major surgery, such as a hip replacement, which makes it impractical or dangerous to try to sit down. Perch lifts can also be a good choice for homes that have a very narrow staircase.
For homeowners that have a straight staircase or for an "L" shaped staircase, which is one that has 90 degree angles, a number of easy to install stair lift kits are available. Typically, these stair lifts are installed with a metal track on the steps of the staircase. The chair or small platform than moves along this track, which spans the entire length of the stairway.
In homes that do not have a straight stairway and require a curved stair lift, there are not really any do-it-yourself stair lifts available. This is because a curved stair lift must be custom fit to the individual staircase and will also be professionally installed. This makes it much more expensive and the build time can often last several months. For this reason, a Residential Elevator is often a better choice than a curved stair lift, as there usually isn't a significant price difference and it has a much higher resale value. This is because unlike stair stair lifts, which will work on any similar staircase, a curved stair lift will only fit on a stairway that has an identical curve, greatly reducing the ability of the homeowner to resell the device.
Using a stair lift is a great way to make the stairs safer and much easier to use for the elderly. There are several popular brands of stair lifts, such as Summit Stair Lifts and Bruno Stair Lifts, with these types of safety aids vastly improving safety at home and on the stairs.
No Comments

|